Secure-I.T.™ is a hybrid solution comprising of both hardware and cloud services designed to protect your network infrastructure, improve site-to-site connectivity and simplify administration of network operations for enterprises and managed services providers. This next generation firewall achieves this by tightly integrating a cohesive set of next generation firewall technologies such as:
Layer 7 Application Profiling
Intrusion Prevention
Web-filtering
Malware Protection
Anti-spam
Network Access Control
Using intelligent software and cohesive hardware technologies, Secure-I.T™ provides the ultimate defence against malicious activity targeted towards your network.
World-leading next generation firewall capabilities, extremely resilient VPN technology combined with intelligent traffic management that allows customers to save line costs and increase overall network availability. Scalable centralized management of all aspects of the solution reduces administrative overhead costs and ensures policy compliance for local and remote locations. 
Secure-I.T.™ Advantages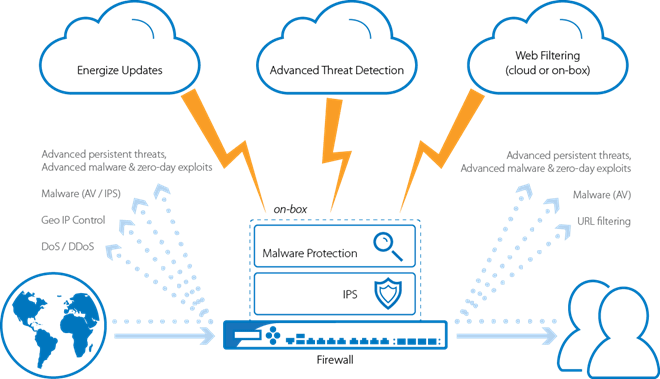 A modern approach to UTM Secure-I.T.™ has adopted the new approach of security by recognizing that cloud-hosted applications and resources have become vital elements that define a productive work environment. In this cloud era, the traditional approach to Unified Threat Management (UTM) is slow, unreliable, and incompatible.
Secure-I.T.™ integrates user awareness, application control, intrusion prevention, bandwidth management, and secure VPN functionality with advanced content security capabilities. Unlike its predecessor, which utilized a Linux-based firewall with security features added on, causing a latency step as each new security feature was added. This next generation firewall integrates these features at the kernel layer, effectviely reducing unwanted latency.
Cloud off-loading
Our next generation firewall offloads CPU intensive processes such as web content filtering, reporting and threat databases to the cloud, where the resources for processessing are virtually endless. This allows for a smooth network flow without the high costs of powerful processing equipment.
Central Cloud Management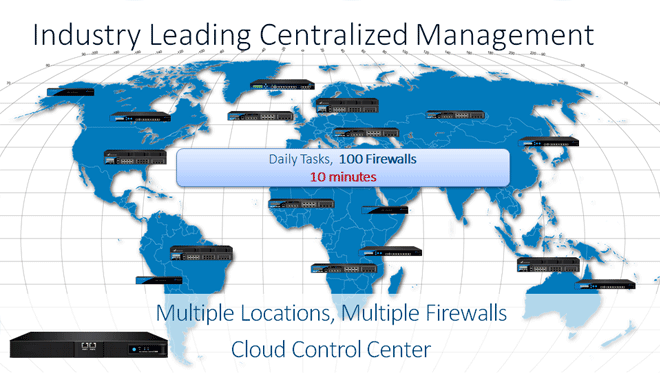 All of Secure-I.T.™ products can be managed from the cloud using the Cloud Control portal. Allowing Administrators or their MSP providers to administer firewalls without the use of seperate VPN tunnels or port forwarding. Security settings can be saved and pushed out to multiple firewalls simulatenously, eliminating the need to configure firewalls individually.
Our FaaS provides the network administrators with an intelligent graphical user interface allowing for quick remote management, backup and restore of configurations. This solution reduces administrative overhead and ensures policy compliance for local and remote locations.
Service Models
Firewall as a Service (FaaS)
Simply subscribe to one of our five FaaS SKUs from your local distributor. The product and service SKUs are based on five levels of firewall appliance and security support.
The reseller will be responsible for the following:
Scoping the required size for the end-user
On-site setup of the appliance
Professional services
Resellers up sell opportunities:
Ongoing security management
Security consultation
Onsite support
Support Resources include:
In person training available
Online training & documentation
Per-incident support via phone or email
Pre-sales resources available via TechData
Security As A Service (SECaaS)
The SECaaS monthly addon to FaaS gives your end users a fully-managed turnkey security solution. All of the following services are included for a small monthly fee:
On-site firewall hardware installation & configuration, including racking & cabling
Dedicated helpdesk line available 24/7/365
Full end user security review and analysis
Security service platform migration
Implementation of security policy rules based on industry best practices
Implementation of custom security policies based on end-user analysis
Live, real time security threat monitoring and event resolution for all security threats
Monthly event reporting and security summary
Management and Configuration of all Secure-I.T.™ security modules
...and additional services such as:
Active Alerting & Intervention

SQL injections & arbitrary code executions
Access control attempts & privilege escalations
Cross-Site Scripting & buffer overflows
DoS & DDoS attacks
Directory traversal/probing/scanning attempts
Backdoor attacks, Trojans, rootkits, viruses, worms, & spyware

Malware Protection
Web Filtering
99.99% uptime
Book an appointment today!
Book an appointment today for a demo of Secure-I.T.™ in the Advanced Technology Solutions Centre at http://www.atscsolutions.ca/booking_calendar.asp
Contact
Eric Ledoux
eric.ledoux@techdata.ca
Technical Business Development
1-800-237-8931 x22414